rachrevolution
) just launched her etsy.
http://www.etsy.com/shop/ArchNemesis
She only has one item in her shop as of yet, but I think more items will be arriving. Stop by, check her out, add her as a favorite and ssee what else she adds.
Speaking of
rachrevolution
, where is your etsy??
My middle little sister (not
The twins were born on July 2nd. Baby Madison got to come home with Mommy two days later, baby Tyler had to stay in the NICU for an extra day due to being born with low blood sugar. Both babies were home yesterday, happy and healthy and very sleepy. We went to visit, Cindy (Mommy) has the picture of Michael holding baby Tyler, but he did hold him, and continued to gush with me throughout the rest of the day about their cuteness.
Pictures!!
Cindy and I holding Tyler and Madison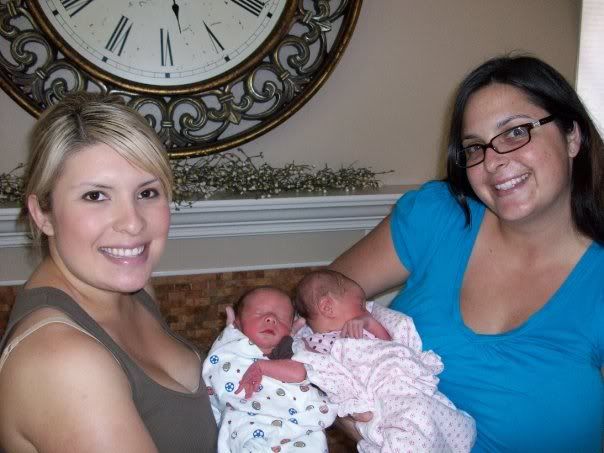 Daddy (Jeff) and I with the babies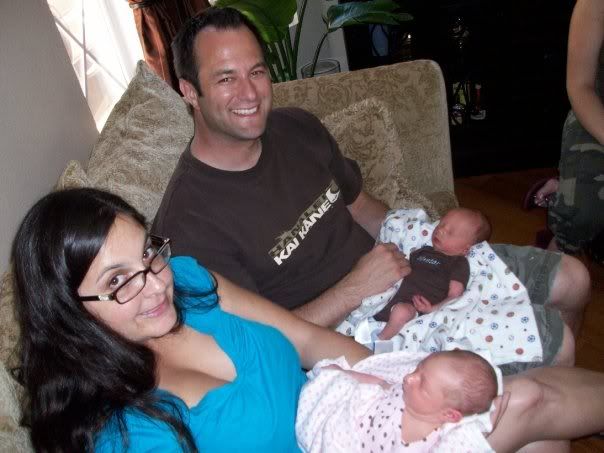 Happy Parents with their new arrivals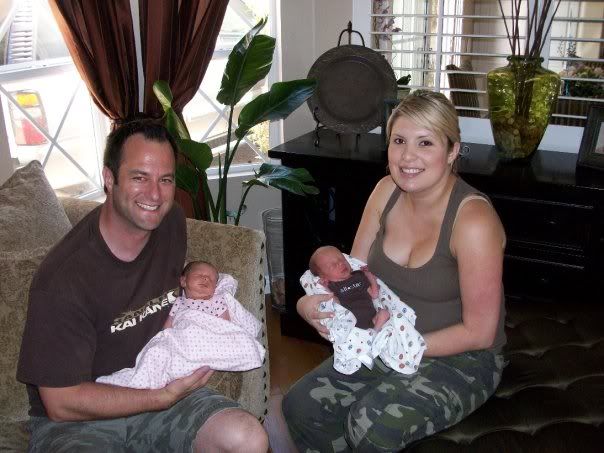 I can't believe how great Cindy looks. She is my hero, holding those twinsies in there for 38 weeks and then delivering naturally!
On a sad and somber note, John and Jamie suffered a miscarriage this morning. My heart broke for them. I can't even begin to imagine the pain of losing your own child, not to mention that it happened within 5 days of when their brother and sister in law welcomed twins into the world. Simply devistating.
Well... happy and sad today.
Full Quilt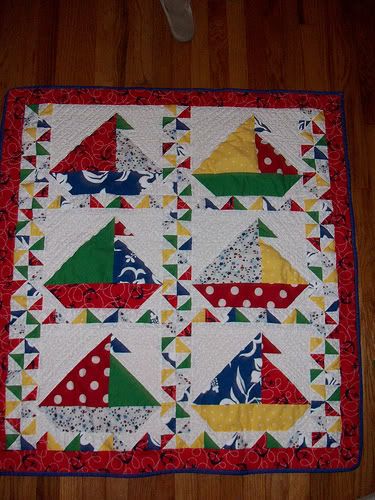 (
Close ups of the blocks
Collapse
)
My third quilt... all done. I forgot to take a picture of the paperpieced anchor lable I made. The pattern for the quilt is from Sugar Sack Quilts by Glenna Hailey scaled down to a baby quilt size (idea taken from a Jo-Anns ad).
It took me a month of crocheting in my "spare time" (I work 60 hrs a week, so I don't get too much), but I finally finished this gift. It is 55" from point to point. Here is a photo with my two little helpers making sure the blanket meets all their standards.
This starghan is a gift for a friend who is completing my astrological chart and has just moved into her own place. She is a Leo/Fire Sign, which is why I chose the colors I did. They are Lion Brand Vanna's Choice.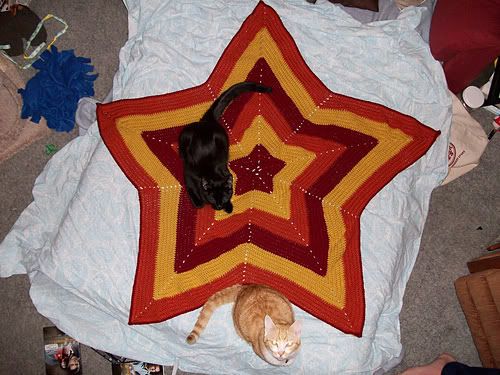 x-posted-- sorry to my FL if you got spammed with this one.
I do still need to post all of my Halloween photos. But here is something else I did over the weekend!!